Today is my 30th birthday. While I usually don't get worked up about aging, I realized a couple weeks ago, that I am only half way to 60, which is when I hope to retire. It made me realize that's a lot of time left to work, and that I'm not really that old. For my 30th birthday, I thought I'd some things about my birthday!
Ronald Reagan was President of the United States
George Bush was Vice President of the United States
Minimum Wage was $3.35/hour
Gallon of milk cost about $1.89
Dozen egg cost about $1.43
First Class Stamp was $0.20
Gallon of gas cost about $1.23
This is what the magazine stand looked like when I was born: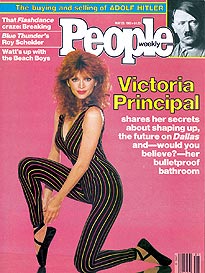 The #1 Box Office Movie: Spacehunter: Adventures in the Forbidden Zone (Return of the Jedi opened May 25)
The Billboard Hot 100 #1 Single: Let's Dance by David Bowie
A new episode of Joanie loves Chachi aired, along with reruns of Happy Days, Three's Company, and The A Team on my birthday.
The Little Drummer Girl and In Search of Excellence were on the top of the New York Times Bestseller List.
The Brooklyn Bridge celebrated 100 years!
I share my birthday with:
Queen Victoria (d.1901)
Tommy Chong
Bob Dylan
Patti Labelle
and others
Happy Birthday!